Last year the Colts were dead last in the league in stopping the run. They gave up 173 yards a game. This year they are in the middle of the pack with 105. But still, you expect LaDainian Tomlinson to have a big game against them.
That did not exactly happen, but on this play he rushed for a gain of 16, his longest of the night.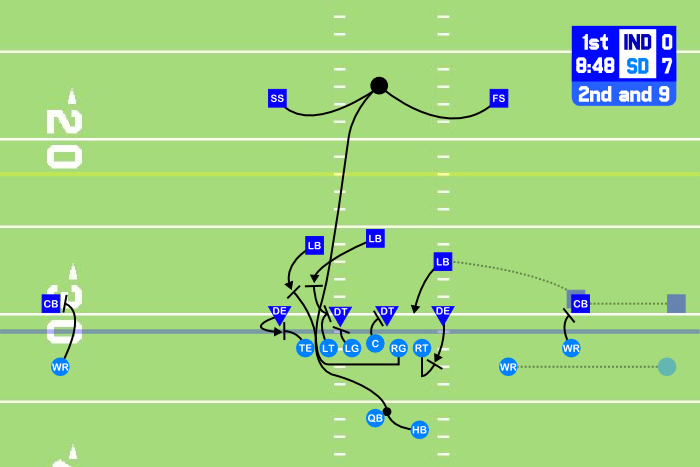 There are a couple keys to this play. The tight end (Antonio Gates) blocks the right defensive end (Dwight Freeney). But it is not just a block, he simply does not let him move for the duration of the play. It helps that Freeney was running around the edge before he realized that it was a running play.
The right guard (Mike Goff) pulls to the left and leads the running back through the hole. He has to move quick, because LaDainian Tomlinson is the one chasing him. He does a great job and gets through the hole to block a linebacker.
The left tackle (Marcus McNeill) helps double-team a defensive tackle. But he's able to get to the second level—he breaks off the double team to block the middle linebacker. If he doesn't do that, the middle linebacker stops the play for no gain. As it is, the play went for 16 yards. Big difference. Moral of the story? The defensive tackle needs to occupy two blockers to give your team a chance to stop the run.